Smitten Gift Certificates are available in any denomination

POP IN FOR SOME RETAIL THERAPY..... SMITTEN STYLE!

GET READY TO BRING IN PROM IN JAN 2024

Shop Smitten....for MATERNITY
Smitten Gift Certificates are available in any denomination
POP IN FOR SOME RETAIL THERAPY..... SMITTEN STYLE!
GET READY TO BRING IN PROM IN JAN 2024
Shop Smitten....for MATERNITY
---
Fashion Sustainability, Consignment for ALL SIZES of WOMEN, Children, Maternity & Men's.
Smitten Apparel offers a large collection of good quality new and consigned clothing and accessories. Our collection includes casual, business and evening wear, as well as maternity and plus size selections.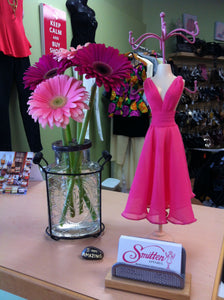 How to Consign
As per Smitten's standards you must freshly wash and neatly fold your items before your appointment. You must ensure they are free of stains and pet hair.
See our page on consigning.  If you already work with us, visit your consignment account. 
Serving our community
For 12+ years we've donated to women in our community. 
Smitten's charity has been featured in CBC.ca, Guelph Bugle, Guelph Tribune, and Guelph Mercury! 
While we've donated and found ways to help, our main initiative is #tampontuesdays . Through this initiative, Smitten provides essential needs for all menstruating people....period!
While promoting #tampontuesdays, we've been profiled in the news and received the Mayor's Magic Maker Award.
To find out more, visit our News & Events page.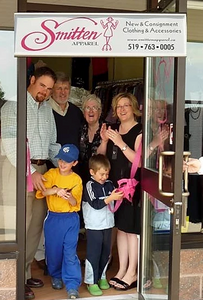 Our store
259 Grange Road, Unit #11
Guelph, ON N1E 6R5
t: 519.763.0005


Shop Hours
Mon: 10.00 am - 6.00pm
Tues: 10.00 am - 6.00pm
Wed: 10.00 am - 6.00pm
Thu: 10.00 am - 7.00pm
Fri: 10.00 am - 6.00pm
Sat: 10.00 am -  5.00pm

Sun: CLOSED